AKI 3.0 Joystick Interface
The New AKI 3.0 USB Interface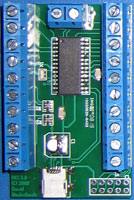 The AKI 3.0 USB Interface is a configurable input device which supports the use of various game or simulation controls on a PC. AKI 3.0 supports Windows 98SE and up, Mac OS X, Linux 2.4+, and should support any other operating system with USB HID (Human Interface Device) support.
AKI 3.0 can operate in the following modes:
-Single analog 6-axis 14-button joystick
-Dual analog 3-axis 7 button joysticks
-Single digital 2-axis 10-button joystick
-Single 49-way 12-button joystick
-2-axis 14-button KeyStick
---
Features
-Support for potentiometer based controls, including joysticks, pedals, throttle controls, etc.
-Support for digital controls, including buttons, switches, and digital or 49-way joysticks.
-Upgradeable firmware for future development.
-Windows XP Based Configuration Application.
-Analog joystick to keyboard input conversion, with programmable joystick dead-zone and key codes (KeyStick mode).
-Joystick to mouse input conversion, with programmable joystick dead-zone and mouse speed (JoyMouse mode).
-4 user-selectable USB IDs to keep multiple boards from swapping order on boot-up.
-10 foot USB cable included!

---
Downloads:
---
Posted on May 30, 2008, 11:56 pm by David Biedenbach
Updated on December 18, 2009, 8:14 pm