SJC Info (Discontinued)
SJC Simple 49-way Joystick Controller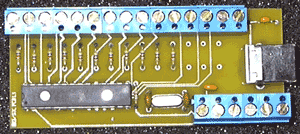 This article contains historical information about the original SJC board which has been discontinued. This product has been replaced by AKI 3.0.
The SJC Simple 49-way Joystick Controller is a USB input device which supports the use of 49-way joysticks on a PC. SJC supports Windows 98SE and up, Mac OS X, Linux 2.4+, and should support any other operating system with USB HID (Human Interface Device) support.
---
Features
Support for 1 49-way joystick.
Support for up to 10 buttons.
Supports both Happ/Midway 49-way sticks, and original Sinistar type sticks via autodetection.
10 foot USB cable included!
Available in 9 different hard-coded USB IDs to keep multiple boards from swapping order on boot-up.


---
Need help? Check out the following:
Posted on May 30, 2008, 9:45 pm by David Biedenbach